There will be a free lunch offered to all students every Tuesday, Wednesday, and Thursday from 11-11:30 at Ramsey Lions Park.

Backpack 2 School Information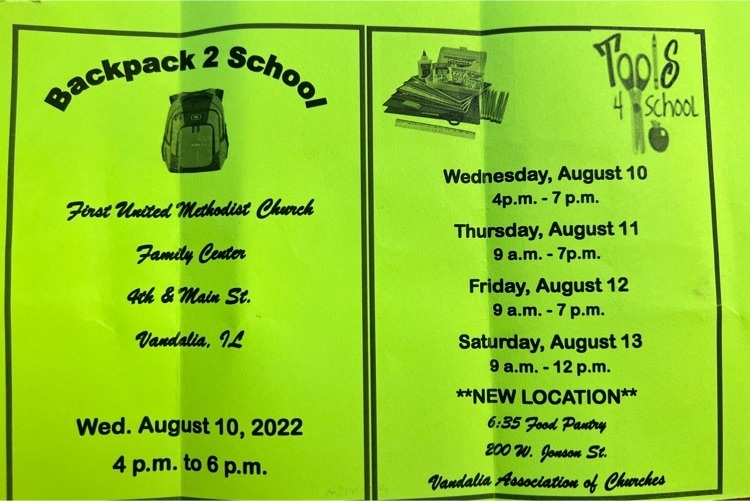 RJHS/RHS Fall Sports--If your child is planning to participate in sports this coming school year, you will need to attend the Mandatory Parent/Athlete Meeting on Monday, August 1, 2022 at 6:00 in the HS gym. Please contact the school with any questions.

RHS students: Golf conditioning will begin Monday, July 25th at 5pm by the ball field. Conditioning is strongly required, but not part of the required practices. Please call the school with any questions

2022-2023 Registration for Ramsey School District will be August 4th from 9:00 am – 6:00 pm in Junior High Gym. Kelsie West, Family Nurse Practitioner will be at registration to provide school physicals for $25 on a first come first serve basis.

There will be JH Cheer clinic on July 26th from 3-5pm and July 27th tryouts from 3-4pm in the RHS gym. Please have wear appropriate practice clothes and tennis shoes. You will also need to bring a drink. If you have questions please contact Jordan via Remind @ramseyjh22

2022-2023 Jr/Sr High school supply list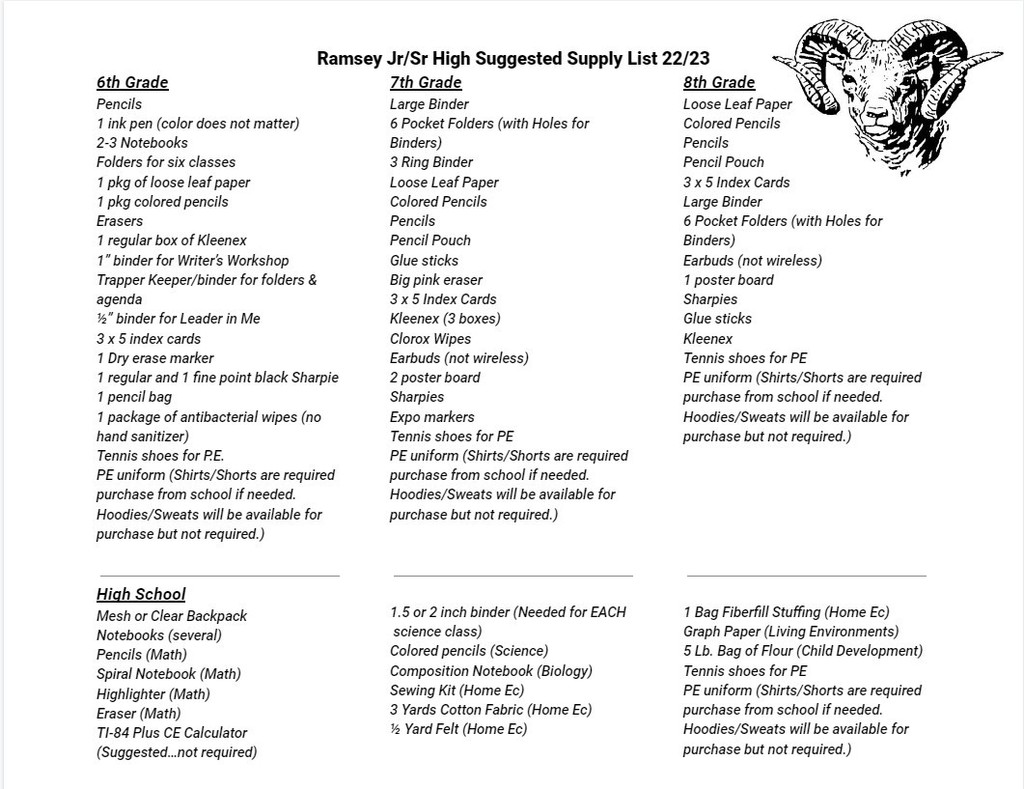 Junior High Softball practice begins Monday, July 25 from 5:30pm-7:00pm. All players will need a current physical, softball glove, pants to slide in, and plenty of water.
Grade School supply list for 2022-23.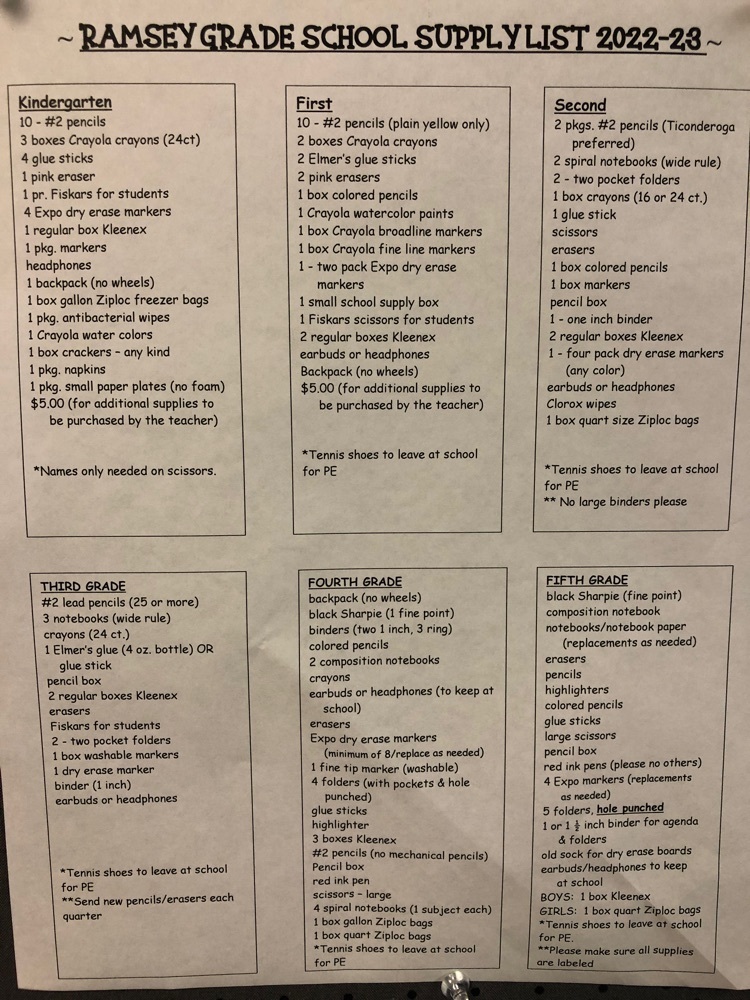 Ramsey HS Cheer will be having a required cheer clinic on Thursday, July 14th from 5-7pm and tryouts will be held on Friday, July 15th at 6pm at the Ramsey First Baptist Church. Please enter at the back of the church. All perspective HS cheerleaders that are interested please come in shorts, tennis shoes, with hair pulled up, and bring a drink. Any questions or concerns, please call the school the week of July 4.

There is a free lunch available to all Ramsey students every Tuesday, Wednesday, and Thursday. Lunch is at Ramsey Lions Park from 11-11:30 am.

There will be a free lunch available for all Ramsey students every Tuesday, Wednesday, and Thursday at Ramsey Lions Park between 11 and 11:30.

Ramsey Band and Choir Concert will be held May 6 at 6:30 in the HS gym. NHS and Awards Night for the HS will be May 9 at 6:00. Students will be notified by Thursday afternoon if they will be receiving an award. Ramsey FFA Banquet will be held on May 11 at 5:30. Baccalaureate will be held on May 12 at 6:00 at First Baptist Church Ramsey. Graduation will be held on May 15 at 3:00. Ramsey HS Athletic Reception will be held on May 23 at 6:30 in the HS gym. 8th Grade Promotion will be held on May 26 at 7:00 in the HS gym. May 27 will be the last day of student attendance and an 11:15 dismissal.

May lunch me u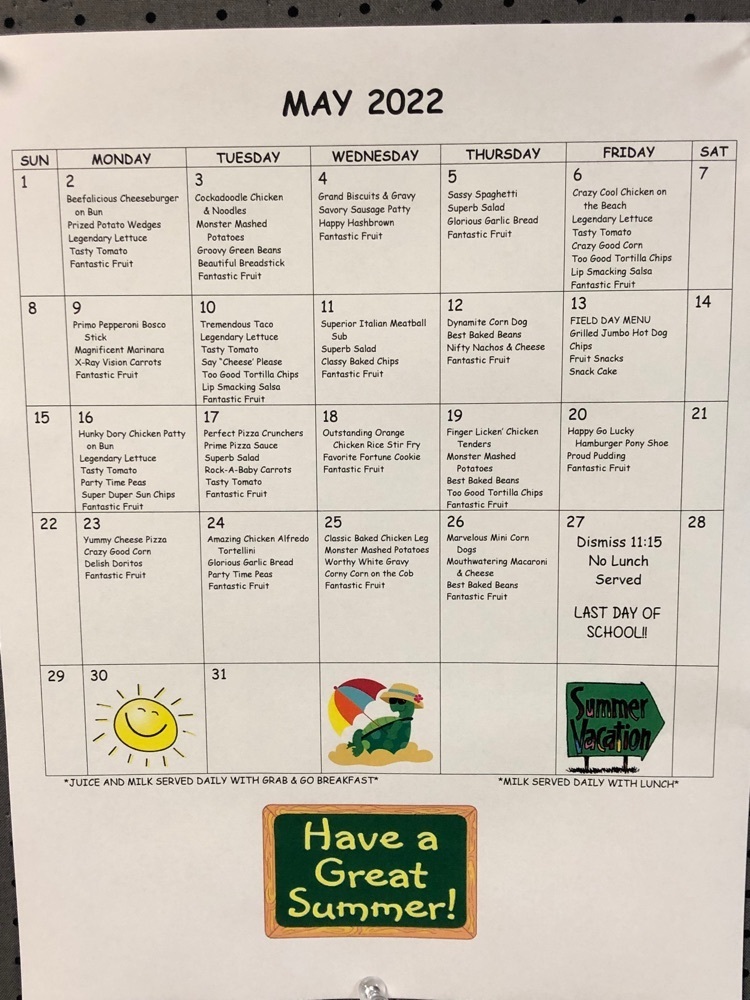 2022 Prom Court Juniors - Evan Belcher, Charlie Reiss, Ben Hayes, Alyssa Trexler, Carley Miller, and Katie Braning. Seniors - Griffin Wright, Hunter Williams, Zander Johnson (not pictured), Natalie Hortenstine, Irene Dutto, and Korina Otto.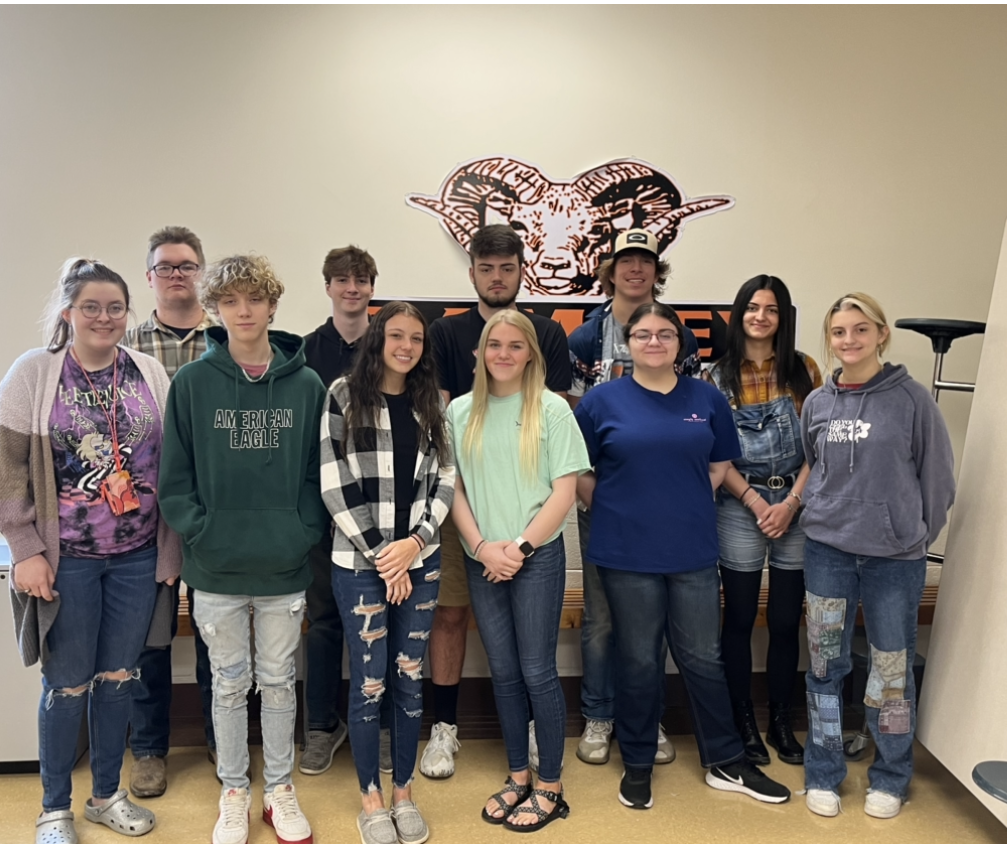 (4/26) Today's HS Baseball Game vs South Central has been canceled

High School Yearbooks are for sale, please order online at Lifetouch or complete and return the order form that was sent home with your child. Orders are due no later than May 13th.

RHS Post Prom will be at THE EDGE in Belleville the night of Prom. April 30th - May 1st. Junior and Senior students need to sign up in the HS Office by April 22nd. (April 15th to get a Post Prom T-Shirt)

Attention High School Parents! You are able to order your students' yearbooks for the 21/22 school year. You can do this online at ybpay.com, the Yearbook ID is: 4443122 (Please make sure it says Ramsey High School after entering the code). If you are not able to order online, you may send a check (payable to RHS) along with the order form that your student was sent home with. Please order as soon as you are able to!