RHS Homecoming will be held this Saturday and coronation will be at 7:45, the public is invited to attend coronation. Seniors-Charlize Troxell and Brennon Frkovich Juniors-Kaylee Cox and Cameron Snider Sophomores-Hailey Frailey and Teagunn Snider Freshmen-Rynn Hewitt and Max Riley

Sorry for the late notice and inconvenience. There will be no school on Thursday, October 5th due to a water main break.
Picture Day for all Ramsey School District Staff and Students will be Thursday, September 14, 2023. Order forms will be sent home and available this week.

On Thursday, Aug. 10, there will be 6th Grade Orientation held in the Junior High Gym at 5:30 and Freshman Orientation held in the High School Gym at 6:00. This is open to any incoming 6th grader, freshman, or any new student to the Ramsey District. I look forward to seeing you there.

2023-2024 Registration is Thursday, August 3rd from 9:00 am - 6:00 pm in the JH Gym. Students can get physicals on a first come first serve basis for $25. On-line registration is also currently open until August 18th.. There is a mandatory athlete/parent meeting Tuesday, August 1st at 6:00 pm in the HS Gym for grades 5-12.

HS Fall Baseball practice has begun. Coach Babbs and the team are looking for a few more young men to play. Practice is tomorrow morning from 8:00-10:00. If you would like to play but are unable to make it tomorrow please contact Coach Babbs or the school.

HS Fall Baseball will begin practice on July 31st from 8:00-10:00 am. All players need to have a current physical.

Ramsey Junior High Softball is looking for Ramsey 5th grade girls to play this season. Practices for this week are: Wednesday (8/26/23)-5:30-7:00 Thursday and Friday-6:00-7:00 Make sure to bring a current physical, ball glove, and water to practice.

Golf practice starts Monday, July 31 at 4:30 pm @ RLGC. Bring your equipment and a drink. There will be a team meeting after practice. Sports physicals are required to play. If you are interested in playing, but don't have the equipment, please contact Coach Marley.

JH baseball practice will start on Monday, July 31st from 3:00-5:00 pm. Make sure to bring your glove and water to drink! All athletes will need an up-to-date physical to participate. Please make sure this is completed before practice begins.

The HS cheer clinic followed by tryouts will be Friday, August 4th, beginning at 4pm and ending around 7pm at the high school. Bring a drink and show your spirit! Any questions, please contact the high school.

Attention High School Girls: There will be Open Gym for HS Volleyball on Tuesday and Thursday this week from 4:30 until 6-6:30 in the Junior High Gym.

There is a free lunch available to all students every Monday, Wednesday, and Friday from 11:00 am -11:30 am at Ramsey Lions Park

Senior Reminders.... 5-16-23 Dual Credit Exams 5-17-23 Final Exams 5-17-23 Baccalaureate 5-19-23 Graduation Practice at 9 Seniors bring cap and gown) 5-19-23 Graduation Walk at 10 5-21-23 Graduation at 3 (be at school at 2:15 pm)

Wednesday, April 12 SAT/PSAT Testing Student Dismissal Schedules There will be NO senior attendance Wednesday, April 12 due to SAT and PSAT testing. All Juniors will be taking the SAT and will be able to leave when their testing day is over at approximately 12:45. Freshman and sophomore students were sent home with a permission slip that allows them to leave after their lunch on the day of testing. This form needs to be returned no later than April 11 at 3:05. If this letter is not returned by this date they will not be able to leave after their lunch on PSAT day and will be dismissed at the regular school dismissal time of 3:05. The buses will run their normal routes if your child should need to stay at school and ride the bus. There will be activities for them in the afternoon. If you have a student on the band and choir trip, they will receive their letter on Tuesday and they will need to be returned on Wednesday morning.

Join us for a Fish Fry this Friday March 24 4:00-7:00 at the Ramsey American Legion. All proceeds go towards Post Prom. Bring you prepaid ticket or you may pay at the door!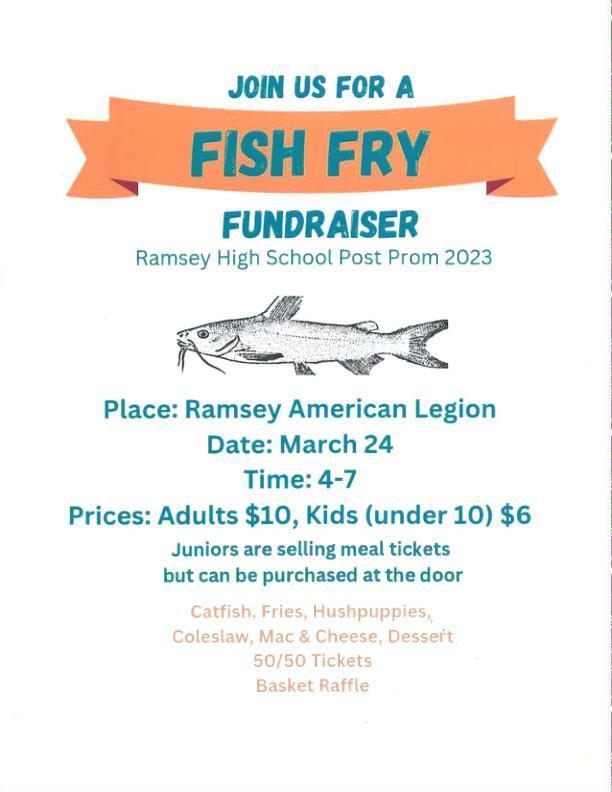 JUNIOR PARENTS - Each Junior has received 10 fish fry tickets for our Fish Fry on March 24 4-7pm at Ramsey American Legion. Tickets and money should be turned in by March 17. We are asking Junior parents to donate to post prom by attending the fish fry. Parents may also want to give a monetary donation or a gift/gift card for prizes at Prom.

Ramsey School District is having a Parent/Teacher Advisory Committee Meeting on Wednesday, March 8th in the HS Library at 6:00 pm. The Meeting is open to the all parents. The Committee will be discussing possible student handbook changes for the 2023-2024 School Year. If you have any questions about the meeting, please contact your Building Principal or the Superintendent.

Girls Summer Softball Meeting has been moved to Wednesday March 1st, 5PM in HS Lobby, (due to 7th Grade Volleyball advancing in Regionals). If your daughter is planning on playing this summer, please attend as input is needed from all parents / guardians. This is for girls ages 8-12.